High Cholesterol Treatment Q&A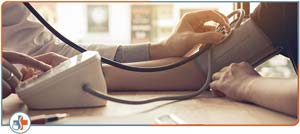 Table of Contents:
What is cholesterol?
What are the warning signs of high cholesterol?
What causes high cholesterol?
What are the health complications of high cholesterol?
What is cholesterol?

Cholesterol has long had a negative connotation, as it is usually discussed alongside high cholesterol, an issue that can lead to a variety of health issues. However, cholesterol itself is not inherently bad. Cholesterol is a waxy substance that your body actually needs to build cells, as well as make vital hormones and other vitamins. Like so many things in life, however, too much of it can cause problems.

Cholesterol comes from two main sources, and your liver is responsible for making all the cholesterol you need, with the rest coming from food from animals. Red meat, chicken, and dairy products contain dietary cholesterol. But these same foods are high in both saturated and trans fats, and these fats can cause your liver to make more cholesterol than it normally would. In some people, this added production may mean that they go from a normal cholesterol level to one that's too high, or unhealthy for them. Some oils, like palm oil, palm kernel oil and coconut oil contain saturated fat which can potentially increase bad cholesterol. These oils are often found in baked goods, or used generally in cooking.

There are technically two types of cholesterol. The first is LDL cholesterol, which is the "bad" kind, and HDL, which is good. Too much of LDL cholesterol or not enough of HDL, the good kind, increases the risk that cholesterol will slowly build up within the inner walls of the arteries, which can lead to issues.
What are the warning signs of high cholesterol?

Similar to blood pressure, high cholesterol itself typically doesn't cause any obvious symptoms. It is usually only noticed when it results in the more serious issues it contributes to, such as a heart attack or other serious cardiovascular issues and complications.

With this said, you can have your cholesterol levels checked regularly, which is important. Most people should have their cholesterol levels checked after they turn 20 years old; you may have to specifically ask your healthcare provider for this, but they should be able to include it in routine blood work. A total blood cholesterol level above 240 milligrams per deciliter (mg/dL) is considered too high. If this is the case, you and your doctor will move forward with the appropriate treatment and management. If your cholesterol levels come back normal, you should have it rechecked at least every 4 years. If you fall into a higher risk category for adverse cardiovascular events, you may need to have your levels checked more regularly, such as if you are an older adult, are obese, have high blood pressure, or type 1 or 2 diabetes.
What causes high cholesterol?

High cholesterol usually develops over time, and is most often a result of consistent, high consumption of foods high in cholesterol, especially the "bad" type of cholesterol, LDL. As mentioned above, LDL is usually found in red meat, baked goods, or other commercially processed foods such as crackers, cookies, microwave popcorn, and more.
What are the health complications of high cholesterol?

In general, high cholesterol is linked to various cardiovascular issues, such as heart attack, heart disease, stroke, or other very serious, potentially life threatening problems. High blood pressure, as well as issues with your kidneys or arteries, including Peripheral Artery Disease (PAD) has also been linked over time to high cholesterol. Your risk of these things may also be higher if you fall into a high risk category, such as having obesity, type 1 or 2 diabetes, or if you are a heavy drinker or smoker. Managing your cholesterol is a crucial part of managing your overall health, especially as you age. If you have high cholesterol or are concerned about your cholesterol levels and overall cardiovascular health, Dr. Nassar, MD, can help. We serve patients from Redlands CA, Loma Linda CA, Highland CA, San Bernardino CA, and Grand Terrace CA.